After a lost year, Universal Studios Hollywood's Halloween Horror Nights (HHN) is taking us back to re-experience some of its classic mazes and horror franchises with a lineup featuring familiar (Leather) faces, Halloween masks, and spinning heads. We're definitely still living in unpredictable times but it's great to be back in a world where HHN exists again.
From a business-profit perspective, re-dusting past mazes and themes make a lot of sense as the best way to proceed with a mega-haunt event while a global pandemic is still looming. However, we would've loved it if they had used the year off to create some new mazes and fine-tune their operations, similar to what we're seeing at HHN in Orlando (we're going later this week to fully compare).
We've lost count of how many Chainsaw Massacre mazes have terrorized HHN over the years but guess you can also say that's good horror; nostalgia and repeatability. So we won't overly complain about most of the mazes being resurrections of past haunts but there are probably a few other themes they could've brought back and refreshed that would've played stronger than some of those they selected. We're also surprised there weren't any new mazes themed to maybe Candyman, Quiet Place, or Halloween Kills.
The other things that came to HHN are the large crowds and long-ass lines. Even with an early entry on a Thursday night, it seemed nearly impossible to see everything without buying an extremely expensive front-of-the-line (Express) pass. Since we're all still living La Vida Corona we were shocked with how packed the park was. It doesn't seem like there were any capacity limits and with fewer mazes than the previous years, the crowds were bottlenecked in nearly every corner of the park. The one exception was 'The Bride of Frankenstein Lives' which never had a listed wait time of more than 15 minutes.
Speaking of listed wait times, what was posted was hardly ever accurate. Some mazes early in the night, like The Exorcist, catfished us with no posted wait time only to be nearly an hour-long line. Halloween was posted as 30 minutes but the wait was closer to an hour. The Harry Potter ride was listed as 15 minutes but once we stepped into Hogwarts we encountered a long line that was obviously going to be closer to an hour. The curse of Pandora's Box was 70 minutes and we decided to give it a try after we made it through The Haunting of Hill House, which was also listed as 70 but turned out to be only 30 minutes. Unfortunately, Pandora's line was truly cursed as it barely moved while throngs of people with the front of the line pass and VIP all showed up at the same time bringing the poor losers line to a complete stand still. We saw that they were selling discounted Express passes after 11 pm, which is probably why the regular lines got longer as the night went on.
Our terror tip for this year is if you can't or don't want to pay for Express then some possible options include getting a Stay and Scream pass or be sure to take advantage of the early entry that comes with regular admission to maximize your night but inevitably you'll still be waiting in long lines as the night goes on. If you're a die-hard HHN fan and Universal is close enough, you can also get their frequent fear pass and get through everything over the season. It can also be cheaper to go for two nights during the season than buying an Express pass. Again, you'll most likely encounter lines but at least you can tap out knowing you'll be coming back.
Now the great thing about HHN is the fact that everyone seems to be really happy to be back getting scared together. You can definitely feel that excitement among the crowds, staff, and scareactors and it does help with giving some extra energy to get through the night. You can have a great time with your friends, family, or strangers once you surrender to the fact it's crowded and just enjoy the fact that we're all in this (haunt) together. As their tagline says "Never Go Alone" and trust us, you won't be!
Focusing on the main attractions here are our ratings for each maze…
MAZES
The Texas Chainsaw Massacre
Inspired by the 1974 iconic slasher film "The Texas Chainsaw Massacre," this all-new maze will depict a harrowing and intense experience as you try to outrun the maniacal Leatherface and his unrelenting chainsaw. Embark on a killer journey through a series of familiar scenes from the film and try not to fall victim to the diabolical family of cannibals. From a dilapidated gas station to an eerie, old farmhouse, you'll witness unimaginable horrors around every corner, soon discovering that nowhere is safe from the demented Leatherface. Will you make it out in one piece? Or in pieces?
Haunt Design & Theming: 4 Skulls
Scare Factor: 3 Skulls
Overall Rating: 4 Skulls
Universal Monsters: The Bride of Frankenstein Lives
The Bride of Frankenstein is stepping out of the shadows and taking her fate into her own bloody hands. The terror begins when you enter the tower ruins where Frankenstein's monster pulled the lever to bring down the walls and destroy him and his Bride. You'll recoil in horror as she tries to bring him back at any cost, honing her diabolical genius one harvested body part at a time but don't get caught between her and the Brides of Dracula, who she captures and drains in hopes of reanimating her love. In the end, the mate will have her monster and the monster his mate.
Haunt Design & Theming: 5 Skulls
Scare Factor: 1 Skull
Overall Rating: 4 Skulls
The Haunting of Hill House
The Netflix series is reincarnated as a "Halloween Horror Nights" maze as the imposing and mysterious Hill House eerily comes to life beckoning you to embark on the dark journey experienced by the Crain family. Iconic scenes will be featured throughout the maze, including the omni-powerful Red Room – the heart of Hill House – and the infamous Hall of Statues, where deceptive powers overtake everyone who enters. Apparitions will appear around every corner to test even the bravest souls as they attempt to escape the entanglement of the estate's eternal stranglehold or succumb to the powerful forces of Hill House.
Haunt Design & Theming: 5 Skulls
Scare Factor: 3 Skulls
Overall Rating: 4 Skulls
The Exorcist
The film that fueled your worst nightmares has returned to Halloween Horror Nights. Based on the "scariest film of all time" this maze takes guests inside the MacNeil house, where we get to witness firsthand the violent battle of a demon trying to take the soul of 12-year-old Regan who is possessed by a demon, possibly the devil himself. It's a battle of the wills between good and evil. This was a solid 4 Skull rated maze when we first experienced it in 2016.
Haunt Design & Theming: 3 Skulls
Scare Factor: 2 Skulls
Overall Rating: 3 Skulls
Halloween 4
Evil (and this 2018 maze) has returned. Michael Myers has escaped, and he's on his way back to Haddonfield spreading blood and mayhem in his wake. Your only hope is Dr. Loomis – Myers' fire-scarred former psychiatrist. But will he get there before it's too late? It's clear that this time, Michael Myers is unstoppable. Trust us, this is the Michael Myers Lovers maze of HHN Halloween mazes.
Haunt Design & Theming: 5 Skulls
Scare Factor: 4 Skulls
Overall Rating: 5 Skulls
Terror Tram: Ultimate Purge
The Terror Tram is back. Unfortunately for you, some of the most iconic Purgers from each of the terrifying Purge films have taken over and are running rampant. It's every man and woman for themselves as masked and costumed marauders are out to ambush anyone outside during Purge hours. So climb aboard the Terror Tram at your own risk. Because once you get off the tram it's no rules. No laws. No escape.
Haunt Design & Theming: 3 Skulls
Scare Factor: 1 Skull
Overall Rating: 2 Skulls
The Curse of Pandora's Box
An ancient horror has returned to prey on those foolish enough to tempt the Fates with their curiosity and greed. Enter Pandora's Curiosity Shop, where her infamous box lies. Once it's opened, all manner of evil will be unleashed. Greek mythology is about to become your monstrous reality.
This was a pretty scary maze in 2019 earning a rating of 4 Skulls having an intense pace with scares around every corner, ceiling, and wall. Sadly we didn't make it in but from the videos we've seen it still looks like a great maze.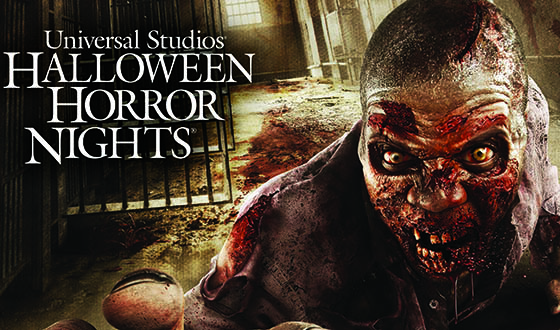 The Walking Dead Attraction
This is another maze we skipped as the wait was posted for over an hour for most of the night, which wasn't worth it for an attraction that we've been through many times before and has become just a predictable as the current season 11. Don't get us wrong, it was a fun year-round haunted attraction but we're disappointed that they haven't done anything to plus it up for HHN. Previous Rating: 1.5 Skulls
Oh, we also heard the Jabbawockeez were doing a show there.
Overall HHN 2021 Rating:
HHN General INFO
HHN is now open on select nights through Halloween. Tickets are available and due to popular demand, event nights are expected to sell out. Check out the HHN Hollywood site for more information and to purchase tickets.