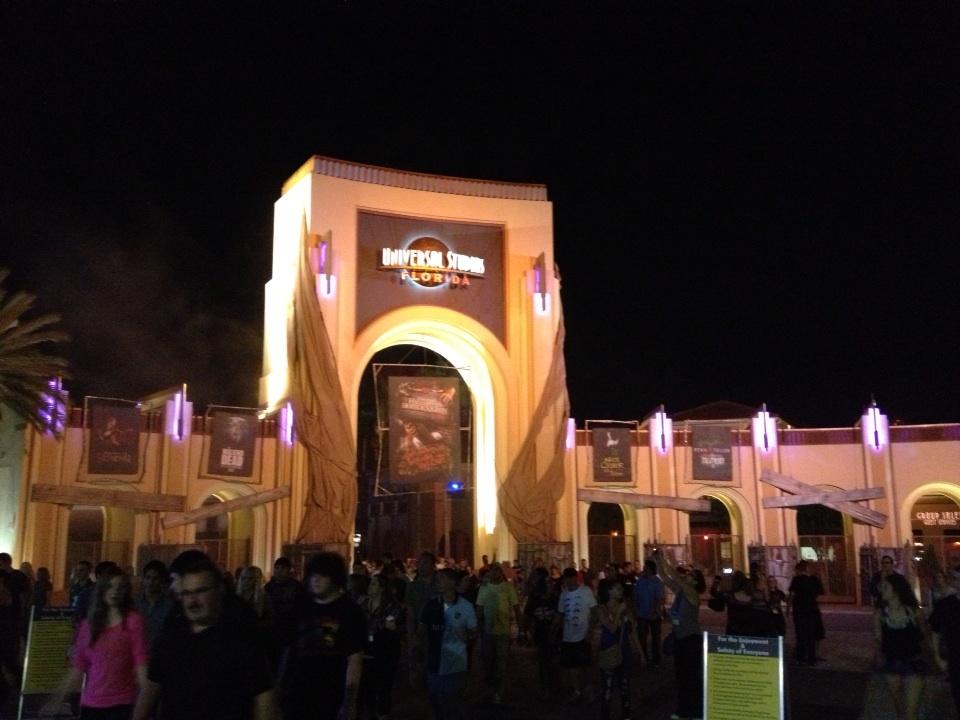 This haunt season we were  fortunate enough to make a trip cross country to check out Universal Orlando's Halloween Horror Nights (HHN22). As the  22 indicates, this year marked the event's 22nd anniversary and it was also our 3rd visit to the Orlando haunt.  After planning the trip we were disappointed to hear that they would be having 4 similar themes as HHN Hollywood (The Walking Dead, Silent Hill, Alice Cooper, and Universal Monsters). We were further disappointed to learn that the closure of the Jaws ride and sudden construction for the new Transformers ride would result in 1 less maze than in recent years. Ironically, the last time we attended Orlando's HHN in 2007 (Carnival of Carnage), it was also the last time that both parks featured a few similar mazes (Friday The 13th, A Nightmare on Elm Street, and Texas Chainsaw Massacre).
As our trip got closer, we readjusted our expectations and looked forward to comparing the two HHN events against each other. In 2007, we actually found Hollywood's versions of the mazes to be superior. To us, their sets were more elaborate and they did a better job of capturing the atmosphere and terrors of the respective movies. However, we also found Orlando's original mazes to be the best of the two parks so the big question is how would the two compare this year?
THE HHN 22 EXPERIENCE
The similarities seemed to present themselves immediately upon arrival. Just like Hollywood, if you don't have a Front of the Line (FOL) pass then you'll be destined for a night of standing in long lines with minimal hope of being able to experience all of the mazes. As those who follow us on Twitter know, we weren't able to secure FOL passes. It seems that the second day of the '2 day/2 park' tickets we had purchased during our 2007 visit couldn't be upgraded online or via the phone to add the 'Stay and Scream' or FOL options. So, we weren't able to upgrade our passes until we got to the park and by that time it was too late to get the FOL option which was sold out. Honestly, this entire ticket purchasing process was infuriating and the snarky attitude of the Universal "Guest Services" employee we dealt with really set a negative tone for the beginning of our evening. We would think that after 22 years, HHN Orlando would have figured out to sell tickets online but it seems that they still have quite a few operational issues to work out. In addition, to the ticketing, throughout the night we encountered other operational issues such as incorrectly posted wait times, pushy 'blackouts' working inside the mazes, backed up bathroom lines, and some rather hard to find mazes.
As we feared, the crowds began to quickly descend on the park and even though it was a Wednesday night it quickly became apparent that we would have our work cut out for us in order to experience all the mazes. With optimistism we began our journey through HHN22, trying to strategize how to stay ahead of the crowds as much as possible.
SCARE ZONES
 This is the first year HHN22 did not feature a iconic character or defined scare zones. Instead, they adopted the roaming street monsters which Busch Gardens over in Tampa began doing last year. While it wasn't apparent during our visit, we later learned that all the construction within the park was tied into the event's overall theme. Supposedly the story is that during construction an ancient cemetery was uncovered and released  an ancient evil called "The Iniquitas" . The Iniquitas then summoned various "Dark Legions" of zombies, vampires, warriors, beasts, female chainsaw wielding prisoners and "Halloween Traditionals". To further enhance this story, there also was a online/in-park game entitled "Horror UNSEARTHED" which allowed guests to play and earn points for their favorite Dark Legion. The roaming hordes were actually more menacing and scarier than the scare zones in Hollywood and it did feel as if HHN22 had a deeper Halloween atmosphere across the park. Yet it also seemed more chaotic as we were being attacked by zombies, vampires, and the Halloween Traditionals all at the same time when we entered the park.
MAZES
Since HHN22 is already dead and buried we will share some more specific details of the houses in the review. To understand our ratings please check the ratings guide. 
Welcome to Silent Hill
This was definitely a different and better version compared to Hollywood's. The story line was more linear with more variation of scenery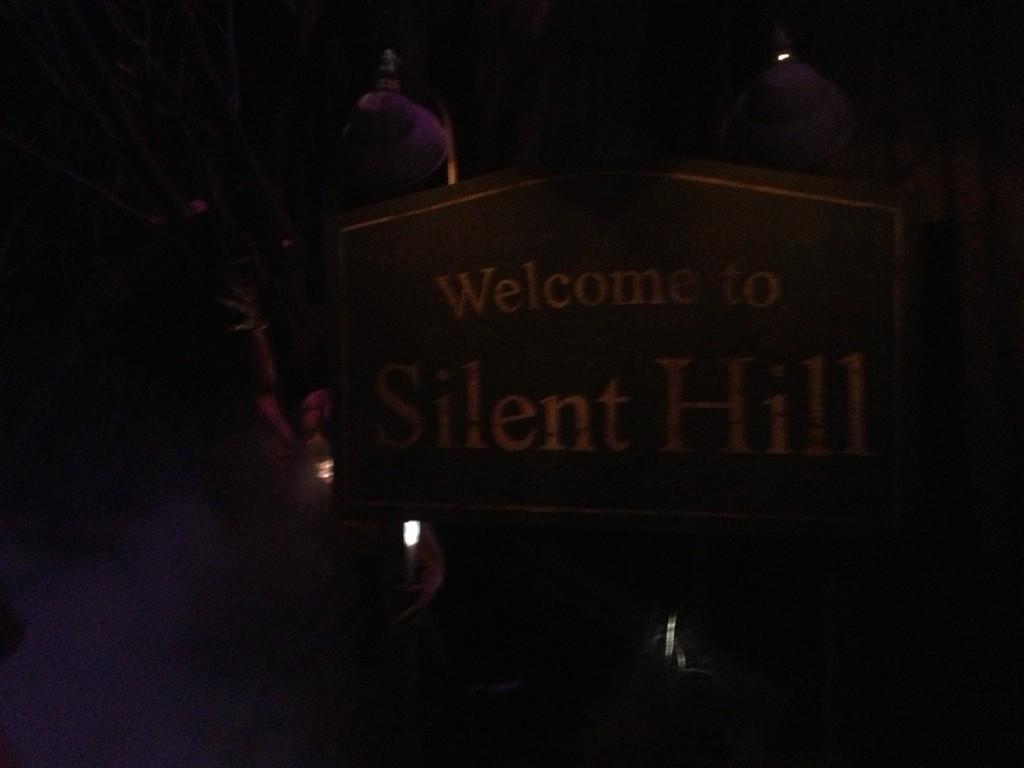 and scare effects. The maze begins with a more elaborate point of entry to the town of Silent Hill with a cop popping out of the bushes firing a gun at a demon that suddenly emerges from the other side of the road, placing us in the cross hairs of the gunfire. The effect of ash raining down highlights this scene as we made our way down the foggy highway and cross through the portal from Fog World to Otherworld. Inside, guests venture through a police station's locker room and bathroom, to a hospital's boiler room, and pass the abandoned carnival into the back alleys of the town Silent Hill. Similar to Hollywood, there were some very elaborate effects featured in the maze, such as bathroom mirrors with appearing and disappearing figures, the colossal Pyramid Head executioners, and the disfigured nurses -we have to say that the talent playing the nurses in Hollywood was better. Of course, there also was Robbie the Rabbit who had a more prominent presence in this version. In fact, there's even a scene where he is seemingly daring  us to stick our hands inside a toilet- but the blackouts were trying to rush us so we didn't get to experience that scare. We very much appreciated the fact that unlike Hollywood they didn't add the ridiculous shit smell to the bathroom scenes. Overall, this maze felt like more like a journey through the world of the video game than in Hollywood where it felt like we were stuck on the same level of the video game. We do think Hollywood's had a few stronger scares with better talent but this version's content and layout was far more interesting and creepy.
Ratings:
Haunt Design: 4.5 skulls
Theming: 4.5 skulls
Scare Factor: 3 skulls
Overall Rating*: 4 skulls 
The Walking Dead: Dead Inside
Just like Hollywood's version this maze blatantly promoted the show with tune-in messaging plastered all over the maps, signage, and just about everywhere else. While waiting in line, they played highlights from the previous season along with reminders to tune in which we had plenty of time to watch as this was a maze with a 30 minuted posted wait time that ended up being a whopping 75 minutes.
The maze is very similar to Hollywood's, taking victims through the post-apocalyptic world of the television series, where we follow in the footsteps of the show's human survivors, making our way from the devastated suburban hospital, through the streets of Atlanta, to the remote countryside, where we end up in an old barn. While the zombie's makeup was impeccable and had the look of the show, there weren't as many recognizable characters like we saw in Hollywood. Due to this maze being so "popular" the crowds were packed inside and it became difficult to tell the zombies a part from the guests, further minimizing the scare factor.  There were a lot of scares using  Universal's signature "strobe-and-sound startle" scare effect and like  Hollywood the effect was overused becoming quickly predictable and almost annoying. There were also many predictable scares with zombies always popping out of a corner. Again, there were just too many people inside which prevented the  experience from becoming to scary and in this category, Hollywood wins. We did like the department store scene where zombies were lurking among the racks of clothes. However, outside of this scene the rest of maze was pretty forgettable.
Ratings:
Haunt Design: 2.5 skulls
Theming: 3 skulls
Scare Factor: 1.5 skulls
Overall Rating*: 2 skulls 
Universal's House of Horrors
This maze was tucked in a back corner of the park and rather hard to find but we're very glad we found it. Our initial thoughts were that this maze was going to a generic haunted house showcasing the not-so-scary and old Universal Monsters just like Hollywood's similarly themed Universal Monster's Remix maze, sans the dubstep music blasting inside. This maze however, is a creative and very scary experience. The maze begins by walking through a dimly lit hallway with posters and Boris Karloff sound clips from the classic movies of the monsters we're soon going to encounter. We then make our way into a projection room which is the gateway to the classic horrors. Throughout the maze they use flashing black-light against the white sketched sets and costumes creating the awesome and temporarily blinding effect of being trapped inside old black and white celluloid film. In the first scene we found ourselves inside the Wolfman's old world forest where Wolfmen lunged out of the set's dark shadows. We then ventured into a catacomb maze with the Phantom of the Opera lurking about. Next we found ourselves in Dracula's castle which featured a very cool scare with Dracula standing up on a balcony looking down at us and then he suddenly flings up his cape, disappears, and reappears at ground level-right in our face! Escaping the prince of darkness we turned a corner and had to duck down to crouch through a passageway inside the Mummy's tomb. Aside from feeling trapped we were vulnerable to the Mummies who were laying in very close of proximity to us. Next we were in another forest with waterways and a quick but menacing appearance by the Creature of the Black Lagoon. We then made our way into Frankenstein's castle, where the raging monster literally crashed through a wall creating one of the most surprising scares we've seen to date! The finale of the maze featured a room filled with giant film strips dangling from the ceiling with the flashing lights and all of the monsters attacking from every possible angle. We heard that this was the most scareactors they've ever put into a single maze scene and it was a very climactic end to a rather short but exciting maze.
Ratings:
Haunt Design: 4.5 skulls
Theming: 4.5 skulls
Scare Factor: 4.5 skulls
Overall Rating*: 4.5 skulls 
Dead End
Dead End is one of this year's original mazes set inside a dilapidated haunted house where countless horrific acts had occurred in the past. This maze features the traditional haunted house tricks and aesthetics that you'd find in your local haunts but with Universal's added level of sophistication.  We heard that is was actually inspired by 2010's "Legendary Truth: The Wyandot Estate" maze and it reminded us a little of 2007's "Dead Silence" maze. Dead End also felt similar to Knott's Scary Farm's Trick or Treat with rotted Jack-O-Lanterns sitting on the front porch and supernatural activity running rampant throughout the house. Inside the house you make your way through various rooms and the walls where you encounter a variety of ghostly, and monstrous inhabitants such as a girl with a broken neck, killer plants, and a photographer who's already to take your picture with a family that's impatiently waiting on a couch. In another scene there's a very cool variation of the spinning tunnel room effect where the seemingly regular hallway fades into a spinning vortex as the lights dim down. There's also the library room with books  floating above distracting us from the scareactors who begin to grab at us from behind the bookcases. In addition to the use of state of the art props and projection effects, the scareactors in this house were very skilled at timing the scares to keep frightening the long  line of people who were making their way through. This was maze very long but it was also one of the ones with the worse 'blackouts' who were being over zealous in trying to make us rush through the house. It became so annoying that we had to yell back at them to stop ruining the experience we've paid good money to enjoy and that actually seemed to work.  Overall, this was a beautiful and visually stimulating maze that captured the true essence of Halloween frights.
Ratings:
Haunt Design: 5 skulls
Theming: 4.5 skulls
Scare Factor: 4 skulls
Overall Rating*: 4.5 skulls 
Gothic
Have to begin this review by saying this is one of the top mazes we've experienced anywhere this season. Of all the HHN 22 mazes Gothic was non-descript prior to our visit and we even contemplated skipping it for the Alice Cooper maze. Luckily we made a better decision and experienced one the best HHN mazes. This maze is fully decked out with incredible attention to detail creating a set that was so realistic that for a time we forgot we were inside a maze and believed that we were actually trapped inside a Gothic Parisian cathedral over ran by vengeful gargoyles. The gargoyle theme was very original as we don't ever recall seeing these hideous creatures used in any maze before. It's all gargoyles, all the time, inside this maze with no variation with other kinds of monsters but it's very effective and they scare with an unmatched level of intensity from every imaginable and unimaginable direction possible – flying and diving out of every corner, the ceilings and even from below the floors. The size of some of the sets were breathtaking , one of which featured a precarious gargoyle's eye view of the church  from a balcony ledge. There were also impressive visuals such as a hall of with candles, similar to the ones we saw earlier in the day on the Harry Potter Ride,  that simultaneously get blown out by the wind. There's also a stone wall that hides a stilt walking statute that seemed to appear out of thin air. With many of the gargoyle statues blended in with real scareactors it was nerve racking to walk through the church's dark hallways not knowing which gargoyles were really going to jump at us, which is extremely scary.
Ratings:
Haunt Design: 5 skulls
Theming: 5 skulls
Scare Factor: 5 skulls
Overall Rating*: 5 skulls 
Penn & Teller New(KD) Las Vegas 3D
We're still wondering who thought it would be a good idea for Penn & Teller to have their own HHN maze. Yeah they can do some good magic tricks but they're NOT scary. This maze was supposed the year's comical offering but the theme was just corny and lame. While in line, we get see a video of how Penn and Teller have placed a tent over the entire city of Las Vegas creating a New Las Vegas – WTF? It seems some nuclear energy was used to make this transition with some very ill results. We remember back in 2007 when they had the "Jack's Fun House 3D" maze and it seems that they recycled a couple those sets. Unfortunately the 3D was not an asset to this maze and unlike Hollywood's recent 3D mazes such as "Rob Zombie's House of 1,00 Corpses" and "Alice Cooper Goes to Hell," the 3D effects in the maze were amateurish and didn't have a significant impact in the maze experience  There were some clever parodies of Las Vegas with disgusting buffet displays, twisted slot machines with functional levers to pull, a tiger trick done by those "other" popular Vegas magicians-gone wrong and a cocktail waitress with 3 boobs. There's also a zombie Elvis  marrying off an unlucky couple. The problem was that there was nothing particularly scary about the maze, there were quite a few rooms where nothing happened, and it was just plain bizarre. We're glad that we only waited 20 minutes for this maze as a wait any longer would've made it an even bigger disappointment.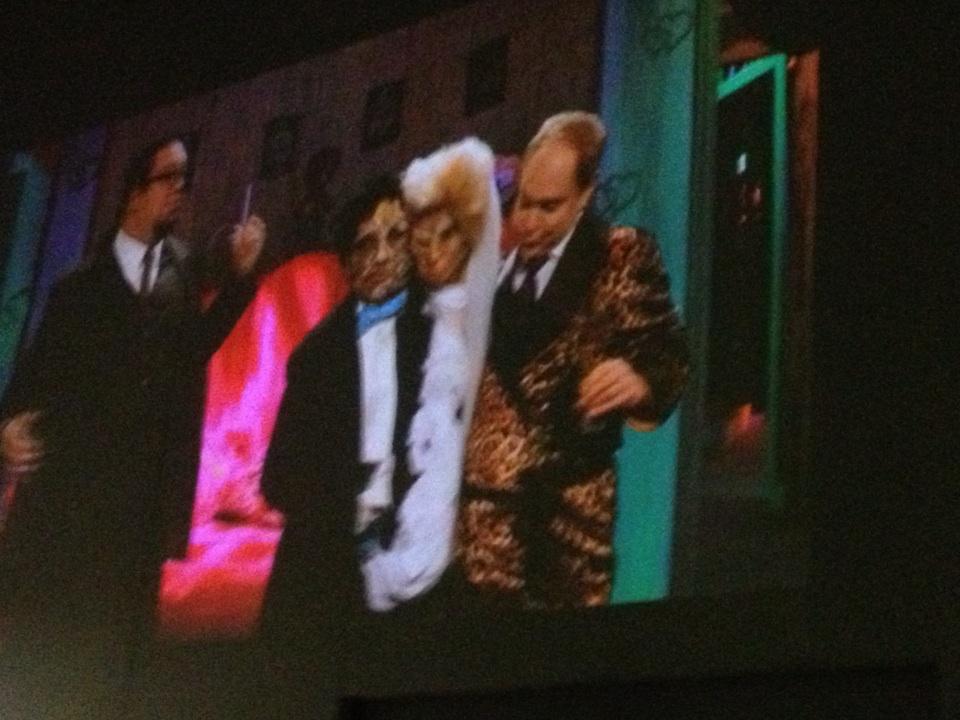 Ratings:
Haunt Design: 2 skulls
Theming: 2.5 skulls
Scare Factor: 0.5 skull
Overall Rating*: 1.5 skulls 
Alice Cooper Welcome to My Nightmare in 3D
 Unfortunately due to the length of some of the other lines and HHN closing the mazes at midnight, we were not able to experience this maze.  What we've heard is that we didn't miss much and after watching an online video we didn't feel too bad about missing this one.
REPASS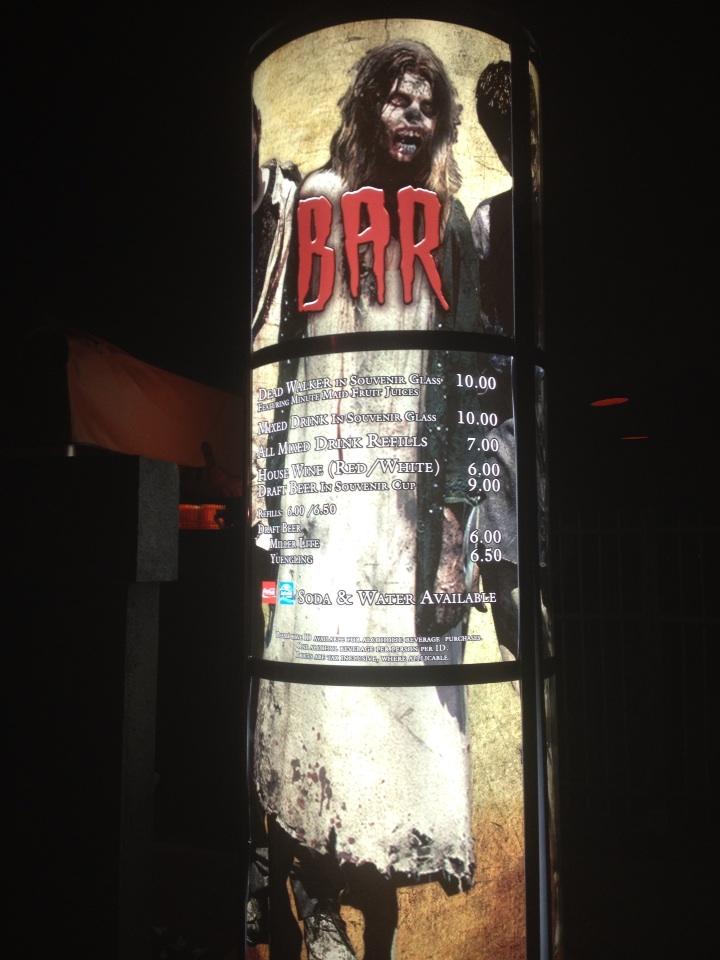 This year we would have to give the slight edge to Orlando as being the best of the two U.S. HHN events. While both have their own redeeming qualities, Orlando's event is bigger with more variety and originality. We still think that our best trip to HHN Orlando was back in 2001 where all but one of the mazes (The Mummy) were original themes. We do like being able to experience some of the movie and TV based mazes but these concepts generally are not as scary as they are confined by the elements and scenes from the properties they're based upon and come with an inflated expectation to be scary. Simply put, the original mazes have more unpredictability.
The frustrating elements we encountered at HHN22 seem to be prevalent at all major theme parks we've attended this season. Crowds, long lines, drunks and the feeling of being rushed the entire night in order to experience all the haunt offerings. We don't expect Universal's "Comcastic" management team cares too much as long as the turnstiles and registers keep clicking. As guests who traveled cross country we have to gripe about the ticket buying process, poor maze location signs, and inaccurate wait time postings. If these elements were better managed we probably would've been able to go through all the mazes, maybe catch one of the shows, and enjoy more of their rides (we really wanted to ride Hollywood Rip Ride Rockit coaster). The bad combination of all these issues did distract from our overall enjoyment of the evening.
Hopefully in the coming years as the construction wraps up around the park they'll add back more mazes to accommodate the large crowds they draw. When asked if our trip to Orlando for HHN22 was worth it, we would say yes but we're also not going to be rushing back anytime soon, especially if they continue to share more of the same themes with Hollywood.
Overall Rating of HHN 22: 4 Skulls