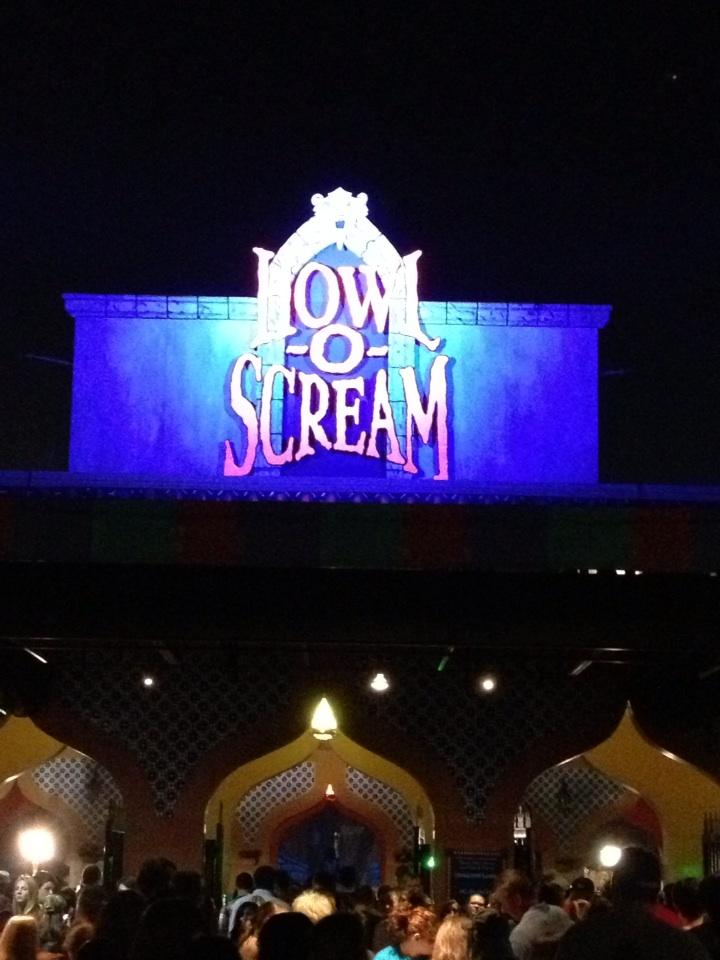 Following HHN Orlando, the next stop on our 2012 Florida Haunt Stalk was Busch Gardens Howl-O-Scream (HOS).  This year marked their 13th anniversary and it was our 3rd visit  to HOS. In our past visits, HOS has always exceeded our expectations with some of the best nontraditional scare tactics and themes we've experienced. For example, in the  2007 maze The Hunted, a young girl asked us if she could join our group until we catch up to her friends. After going through 1/3 of the maze she was suddenly grabbed and 'killed' by a slasher that had appeared out of nowhere. We completely fell for the setup and to this day it's one of the most startling and memorable scares of our stalking careers. With memories like these, we were very excited to return and looked forward to seeing their new offerings including the Alone VIP maze experience.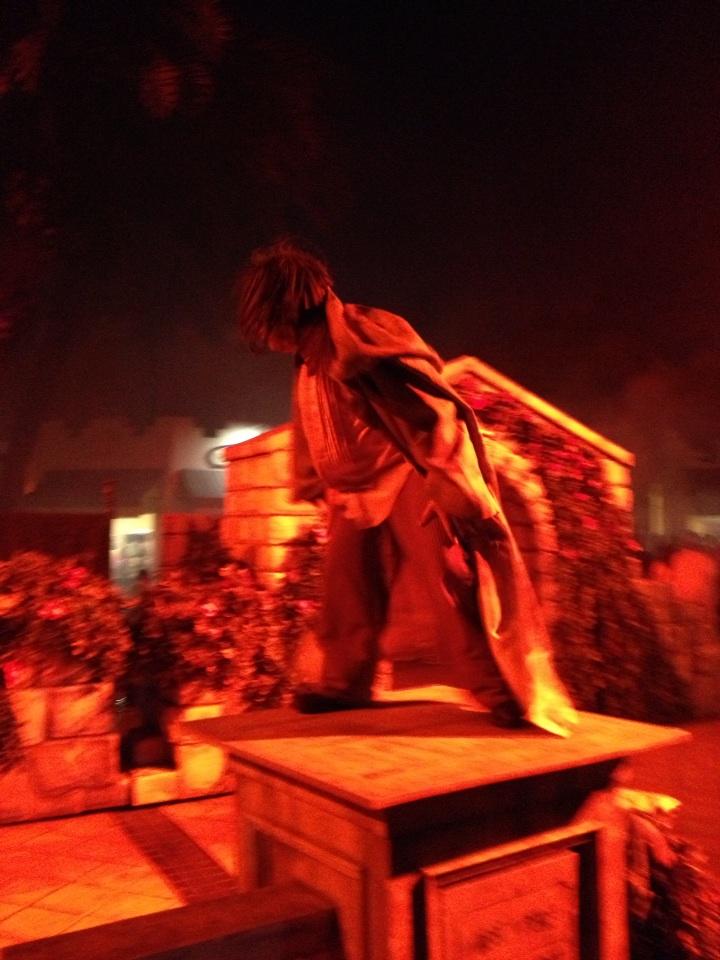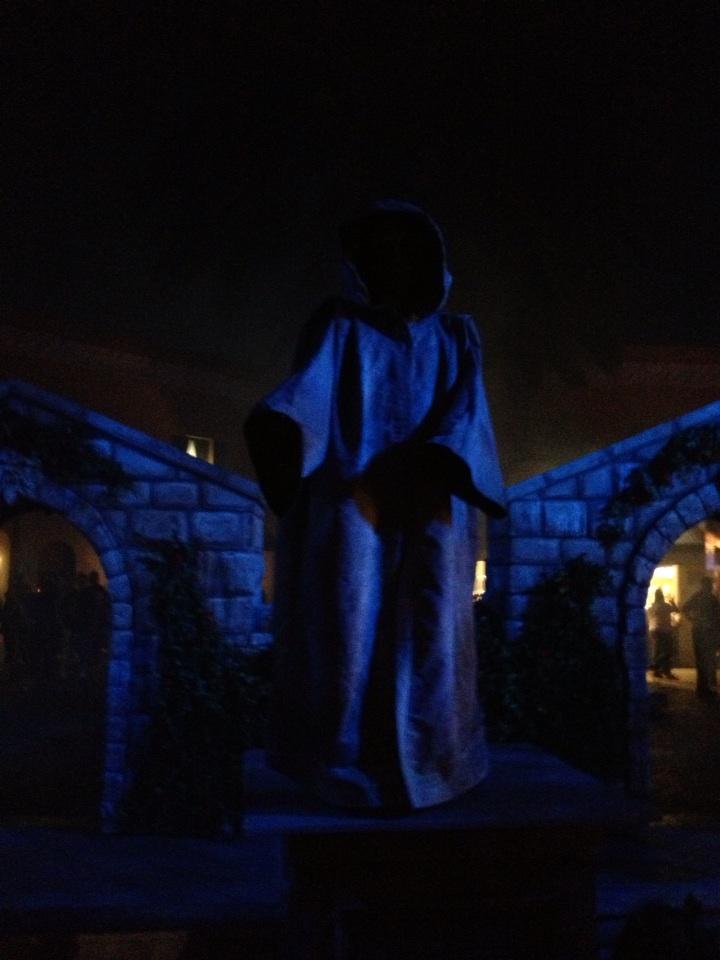 THE HOWL-O-SCREAM EXPERIENCE
We arrived at the park about 40 minutes before the mazes officially opened. There was a backup of cars going into the parking lot but fortunately we spotted a second parking entrance that was wide open  just down the street.  Little did we know that it may of been easy to get in but was going to be hell to get out, but more on that later. As we stepped off the parking lot tram and walked up to the turnstiles we encountered another theme park haunt first – there were monsters lurking outside the park! There were guest running from monsters who were popping out from behind trash cans, the bushes, and the ticket booths. We've seen monsters chase people out of the park but never into the park! Thankfully, getting in was very fast and simple and once we walked into HOS there's no question that they were determined to scare the shit out of us. The nontraditional scare tactics we've come to expect from HOS began right away with monsters disguised as park guests and employees alike were scaring people left and right as we made our way through the park. There was a guy sweeping the walkways who suddenly turned around to reveal a hideous face, a woman disguised as a guest with her arm in cast that was actually concealing a slithering surprise, and even the bushes were alive and ready to attack. Throughout the rest of the park, there were roaming hordes of monsters that have replaced the traditional scare zones. There was one official scare zone called Faded Memories which was a look back at the last 13 years of HOS. It wasn't scary and really was just a section of walkway that had the signs from past mazes illuminated in the fog along with some former props and key characters.
After the headaches of HHN the night before, we were glad that we purchased the Front of Line (FOL) passes on this night. We went on a Thursday night but unbeknownst to us the following day was a school holiday, so as the night went on the park became extremely packed. With the combination of bratty kids, barely legal drunks, and a few over assertive guests the night could of been a disaster, but the HOS staff seemed pretty adept and prepared for this crowd. We also liked that throughout the night guests could still buy FOL passes if they started to feel overwhelmed by the lines. The park is very big so it helps with the crowd flow and we recommend in any of your future visits that you pick a path around the park and hit all the mazes and any rides you want to ride along the way as doubling back can be both time consuming and tiring. We did find some sections of the park to be difficult to navigate as they were extremely dark which is probably because they're trying not to disturb some of the resting animals but it was also hard to find some of the mazes and there are a couple dead-end walkways.
When asked how does HOS rank overall compared to HHN we would have to say it's a tie. Both parks have attributes that top the other. At HOS it felt more like we were at a scary Halloween party. The atmosphere across the park created a complete feeling of Halloween and they really pushed the boundaries on where and when they try to scare the guests. It also seemed that the staff from the bartenders to the maze staff  sincerely cared if we were enjoying the evening. The roaming monster hordes were also more active at HOS and the mazes seemed to have more monsters inside of them. HOS has some impressively designed mazes but HHN's overall  maze quality is still a grade above with more unique themes and higher end effects.
While our HOS evening was enjoyable and scary, the frustration started when we were trying to leave the park. Even with FOL it took us all night to get through all the mazes and to go on a few rides (loved the new Cheetah Hunt) so we ended up staying past the closing time. This sealed our doom as we got caught up in the pack of drunks and brats making their way to their cars. It was utter chaos in the exit plaza and parking lot and for some unexplained reason the exit gate of the parking lot is only one lane so it took us nearly an hour just to get out of the parking lot. This is a major fail and the frustration of getting out nearly erased the good time we just had. We'll chalk that up to a bad operations moment for them and focus our attention back on what you really want to know about, the mazes.
MAZES
To see details on our ratings please check the ratings guide.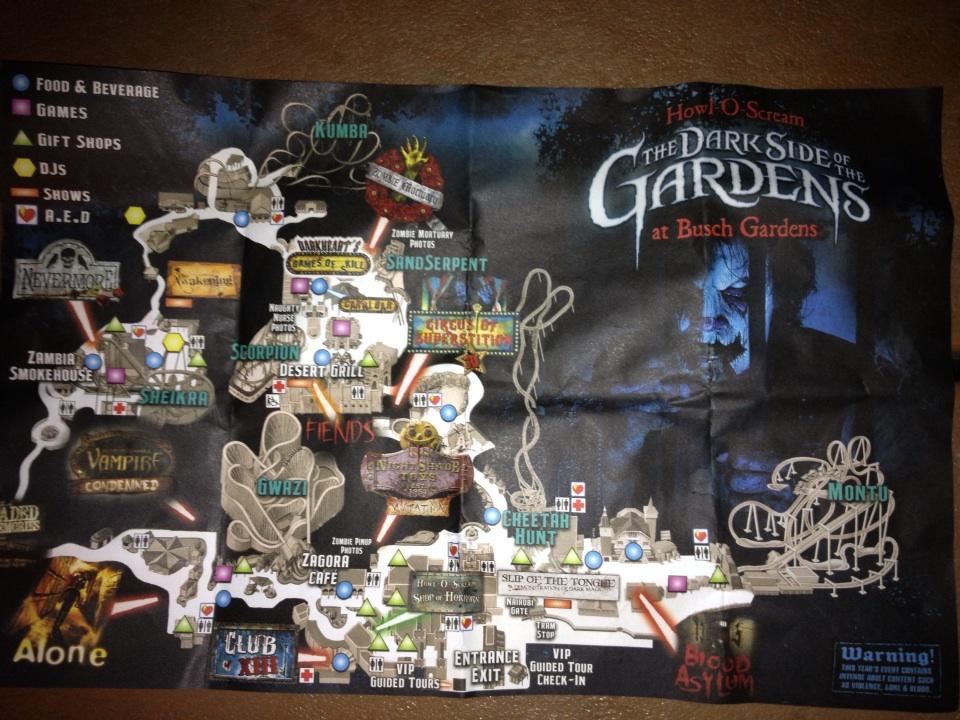 Blood Asylum
This mazes adds a new layer to the typical asylum theme with a creature running rampant throughout a mental hospital killing the other insane inmates. The addition of the creature brought some life (or death) to the story line and this maze also had the most grotesque scenes at HOS. They didn't hold back with the blood and guts inside this deranged prison. When we went through this maze our timing was a little off as we got caught behind a slow moving group but their terrified reactions were fun to watch and also attracted an onslaught of monsters. They must of heard in the break room that they had some live ones as the further we got through the more and more monsters we encountered. For us the scares seemed a little redundant and there were no real recognizable or memorable monsters just bloodied inmates and officers. Call us crazy but this maze could of been better.
Ratings:
Haunt Design: 2.5 skulls
Theming: 2.5 skulls
Scare Factor: 2 skulls
Overall Rating*: 2.5 skulls 
Circus of Superstition 3-D

This maze was fantastic! As all of our haunt stalkers know by now, we find the clown theme to be tired and not scary. However, this maze has cleverly combined the Trickster icon and the park's 13th anniversary with the theme of thirteen superstitions being showcased inside a circus filled with crazed clowns. Unlike the typical clown mazes where they try to be silly while scaring you, these clowns are sinister and pure evil. Lead by the Trickster who snidely welcomed us inside , we really felt like we were testing our luck in this maze. Inside, we were treated to superstitious fears such as opened umbrellas, broken mirrors  black cats, hat on a bed, spilling salt, and cracked sidewalks. The clowns attacked from all directions and some, on bungee cords, sprung out and got extremely close to us. On top of all that, this maze was in 3D bringing a whole new dimension of fear with the dramatic transitions from florescent bright rooms to dark passages, causing a very disorienting effect . The finale of the maze was one of the most suspenseful and heart pounding scares of the night with a walkway surrounded by ax wielding clowns. Seems we were pretty lucky to get out in one piece. 
Ratings:
Haunt Design: 4.5 skulls
Theming: 5 skulls
Scare Factor: 4.5 skulls
Overall Rating*: 4.5 skulls 
Zombie Mortuary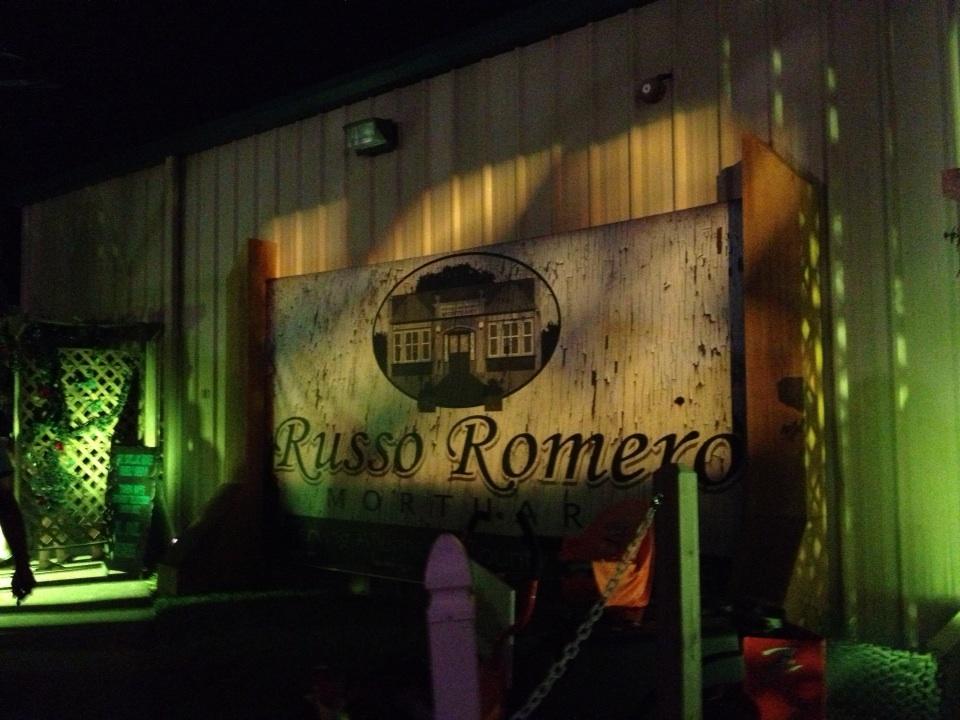 Zombies is another theme we usually don't find to be scary, but once again HOS has found a way to revive the living dead with the Zombie Mortuary maze. What was unique about this maze is that it isn't set in some obscure post apocalyptic world but instead it's in a place where zombies should call home, a funeral home. There were numerous surprise scares from below and the top, our favorite kinds. The sets were highly detailed too, taking us from the front door of the funeral home, through a chapel of grieving widows, into the embalming rooms, past the opened mortuary tombs and finally six feet under inside our own grave. The final scene inside the grave was one of the most haunting and memorable of the night. After the trip through Zombie Mortuary we think we'll opt for cremation when the real time comes.
Ratings:
Haunt Design: 4.5 skulls
Theming: 5 skulls
Scare Factor: 4.5 skulls
Overall Rating*: 4.5 skulls
Nevermore
This was one of the mazes we were most looking forward to. This maze had incredible atmosphere and visuals but instead of being scared we just wanted to linger and look at all the details as we tried to figure out which of Poe's Gothic tales we were experiencing. It's obvious that more focus was placed on the design instead of the scare tactics. The costuming in this maze was immaculate and a lot of it reminded us of Disney World's Haunted Mansion with mysterious bookcases, changing portraits and ghostly statues which would "suddenly come to life". Many of the same scare tactics were repeated through this maze and while it was startling at have the statues lunge at us, this scare tactic became predictable fast (just look down at their feet to see which one is real). The highlights of this maze were the disorienting strobe light room themed to Poe's The Mask of the Red Death and the room of The Black Cat. Overall, we would say that this maze was solid but as Poe said himself, "There are certain themes of which the interest is all-absorbing, but which are too entirely horrible for the purposes of legitimate fiction".
Ratings:
Haunt Design: 4.5 skulls
Theming: 5 skulls
Scare Factor: 3 skulls
Overall Rating*: 4 skulls 
Vampire Casino Ultimate Gamble: Condemned 
Back in 2007 Taste of Blood was one of the most unique Vampire mazes we've seen with the blood suckers hiding in an underground subway layer. Since that time Vampires have really fallen out of vogue and it seems they've decided to retired inside an abandoned Las Vegas casino… um-kay. We like that HOS has found new ways to spice up various themes such as the clowns and zombies but this time around they should let the vampires stay in their coffins. The maze is based inside a dark casino where one member of our group is given a flashlight and is supposed to guide  the way. The concept is cool and we give them an 'A' for effort but the actual effect fell flat. One problem was they gave the flashlight to some kids who were too scared to lead the way but also wouldn't pass the flashlight to someone else. Since the maze actually had enough light to see without the flashlight, we just left the group behind in hopes of finding some menacing and scary vampires. Instead, without the flashlight to signal to the vampires that we were coming we missed just about every scare and they missed us. We will say that this maze did the Vegas theme better than HHN's Penn & Teller New(KD) Vegas but that isn't saying much. Hopefully next year they pay their light bill find new ways to re-illuminate these children of the night.
Ratings:
Haunt Design: 2 skulls
Theming: 2.5 skulls
Scare Factor: 1 skull
Overall Rating*: 2 skulls 
Nightshade Toy Factory: Mutation 
Awww, it's the evil toy and doll maze. As I write this review I'm starting to think that maybe HOS had no originality at all, instead they've just mastered remixing popular haunt themes. Nonetheless  this maze was very fun and packed with a lot of scares. It was also rather long with room after room filled with what else; diabolical dolls, mutated teddy bears and possessed playthings. The maze also had a double ending with a chainsaw chase out that lead into a chamber with two side by side vortex tunnels. Like in any typical horror situation, our group split up and each tested our own fates inside the respective vortex tunnels. To it's credit, The Nightshade Toy Factory really makes toy and gifts that keep on giving and killing.
Ratings:
Haunt Design: 4 skulls
Theming: 3.5 skulls
Scare Factor: 4 skull
Overall Rating*: 4 skulls 
Alone

The deranged Master Alexander Daedalus opened Minotaur Storage to house his vast collection of "cultural" remains. But now his sinister obsession with hoarding has expanded to stockpiling people. Escape this lunatic's labyrinth or you will become part of his collection. Can you make it out ALONE? 
In an effort to save some money we opted to do this maze as two instead of Alone.  This maze was not cheap as it cost us $60 ($50 for completely alone) but it turned out to be a worthwhile experience. While we found it to be a little pricey as it was only $25 just 2 years ago,  it was obvious that the demand was there as it was sold out and there was a good number of disappointed guests who walked up expecting to get in but couldn't.
Going in we were apprehensive and had no idea what to expect. I had experienced the Trapped maze at Knott's Scary Farm earlier in the season but HOS has been doing this VIP maze experience for the past two years now. The maze didn't have the typical monster jump from around the corner or "boo door' type of scares. Here they play with your senses and the scare actors work their hardest to make sure we were uncomfortable and disoriented. This is a maze of wills and courage. As you'll see in our ratings we really liked this maze but we don't want to spoil it. We're not sure if it's the same year after year – we imagine it is. So, for those of you who plan to visit HOS next year please skip to the end and for those of you who want to take a room by room trip with us just highlight the following text to read on.
** SPOILER ALERT**
When we arrived for our appointment time the host gave each of us a fake body party as our admission ticket. There were a few people ahead of us and every 5 minutes they would let the next party in. We noticed that just about everyone was going in as groups of two or 3 (economies of scale).  Outside the gate stood a tall imposing guard who showed no emotion whatsoever. His demeanor gave us the clear indication that this maze was going to be no joke.  As we anxiously waited there was the sound of cats loudly screeching and crying which was both unnerving and annoying. When it was our turn he opened the gate and silently followed us for a few yards before disappearing in the fog. We made our way down the foggy tree lined walkway with the cat cries getting louder.
At the end of the path  we were confronted by a hillbilly man who had real snot hanging from his beard. It was very disgusting  to see that goo dripping out of his mouth and nose and disturbing as he got close, too close, to our faces. He never spoke. He just laughed, grunted, and screamed at us. After a few minutes he gestured for one of us to sit in a chair that was next to a tape recorder. He played a tape which explained the story of house's owner, Alexander Daedalus, along with a brief safety spiel. The story sounded simple, we're going in to see his collection of items and we're not supposed to touch anything. 
After the taped message was over, the mute hillbilly became more irate and took out a butchers knife and quickly motioned us into the house. Once inside it was immediately obvious that the design quality of this maze was on a whole other level.  After going down a hallway a bellhop appeared and pushed us into an "elevator". It was the typical elevator trick used in other mazes but this version was more frightening as the room suddenly got dark and felt claustrophobic. When it was dark we were also concerned as to where was the bellhop who had stepped inside with us. When the elevator ride was over and the doors opened we were inside an entirely different room. We made our way out of the elevator and into a two-story room filled with padded walls and and flowing white sheets. At the top was a woman who was floating above us wrapped in the sheets. She welcomed us and asked why did we come there. Before we could answer we were assaulted by some psychos who were hidden the padded walls. We quickly ran forward through a steel door that was at the end of the room.
We definitely didn't end up in a safer place. We were now inside a narrow steel corridor which suddenly began to stretch away from us and the lights flickered. Suddenly a shirtless man with two machetes came running at us, with his blades slicing across the walls creating massive sparks. The lights flashed off and when they came back on he was standing behind us breathing down our necks.  He asked us our names and then started to threaten us with his machetes. They looked real enough and he promised he would cut us.  He then lunged at us and chased down the hallway into the next room.
As we caught our breath we were in a living room which looked like scene out of Hoarders. A lady jumped out at us and started to speak kindly to us. She asked if we want to see her collection of items but warned us not to touch anything. She knew our names and then brought to our attention that the items in the room were all made from skin, human skin! She began to tease that our skin would be good for her collection and we began to make our way down the path through the cluttered room to get away from her. There was another lady who grabbed at us from behind a bookcase and attempted to block our path. We found the exit door and as we left she bid us nice goodbye, slamming the door behind us.
We were now inside a brick wall room with no visible way to exit.  We weren't sure where to go so we started touching the walls. After a few moments a side door opened and two inmates came in yelling at us for touching the walls. They separated us, taking us into a dimly lit room filled with wooden crate walls and sliding doors, looking like a cattle stockyard. One of us was taken quickly down the hall through the doors and the other was held at the entrance being harassed and asked who touched the wall. These inmates knew our names and we had to find our way through this room with them attempting to block our paths and keep us separated.
At the end of this scene we were pushed into a room where another "kind" lady greeted us. The room was filled with some fancy items and she began to engage us, asking us how do we like the master's collection. She started showing us various bizarre artifacts and then picked up a giant vase. She spun it around and then dropped it on the floor. "Oh look what you've done" she screamed, "look what you've done." We were told that we were in big trouble with "The Master" and we were immediately sent into the next room where a guy was chained to the wall and there was a mad scientist. It seems the guy had touched something as well and before we could say anything he was violently electrocuted in front of us. Another door opened in the wall and we were sent into a chamber where we were face to face with the Master and his pet Minotaur. It seems we've met the Devil himself.
The room looked like dungeon and was filled with coffins. The Master sat on a throne and we were told to beg for our lives. We engaged in some banter about who touched what, making us feel like children who were in a lot of trouble. After a few minutes he obviously had enough and commanded the Minotaur take out a giant power drill to "punish us". The creature brought it dangerously close to us and then one of us was commanded to go into one of the coffins against the wall and wait for our fate. Once inside the coffin a staircase was revealed  which climbed up into a dark room where a Johnny Depp-like vampire-type creature was waiting. When we both got into the room he began to make sexual advances at both us but finally settled on the lady. He practically kissed her and in the meanwhile sent me, the guy, down a dark slide in the far corner of the room. The slide ended in another dimly lit room where a guy emerged from the dark. He suddenly whipped out a chainsaw and then chased us out of the house, one by one for one final scare. We were then standing alone outside the house and followed another foggy tree lined trail back to civilization, so we hoped. 
At the end of the maze we were out of breath, laughing, and shaking from the experience we just had. This summary can't accurately capture the full ambiance of the maze or the quality of the scareactors. What we liked most about it were the interactions that pushed the boundaries of personal space and comfort. Unlike the traditional haunt mazes, it was also a personalized experience and it seemed like they didn't want us to leave. It was freaky and somewhat titillating at the same time. We think it's worth at least one visit, even if you've read this. We also recommend that you do try it alone or with no more than one other person. Of all the few VIP mazes we've now been in, so far this one is the best.
Alone Ratings:
Haunt Design: 5 skulls
Theming: 4 skulls
Scare Factor: 4.5 skulls
Fright Value: 3.5 skulls (*$6o up charge)
Overall Rating*: 4.5 skulls 
Overall Rating of HOWL-O-SCREAM: 4 Skulls