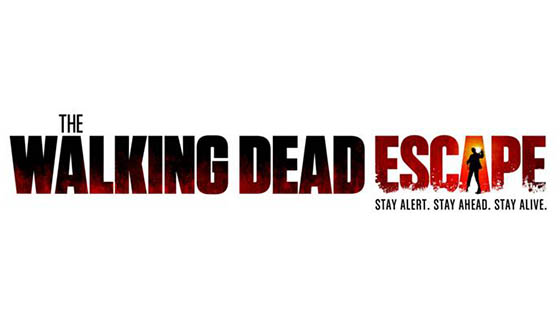 AMC  has joined forces with Skybound, Robert Kirkman's imprint at Image Comics, and Ruckus Sports for the second annual The Walking Dead Escape, a zombie obstacle course at Petco Park during Comic-Con weekend in San Diego, Fri., Jul. 19 and 20. Last year, Skybound and Ruckus Sports brought the first The Walking Dead Escape to San Diego during the 2012 Comic-Con weekend. The Walking Dead Escape allows fans to live out the events from the groundbreaking, Emmy-award winning and top-rated AMC series, which is based on Robert Kirkman's Eisner Award-winning best selling The Walking Dead graphic novels.
The course is open Jul. 19 & 20 from 5:00PM to 10:00PM PT where Survivors can climb, crawl and slide as part of the adventure and to also avoid confrontation by hordes of Walkers. The Walking Dead Escape is not a race and Survivors are not timed. The goal is for the Survivors to reach the decontamination zone where their level of infection — if any — is determined by a confidential military scan. Walkers are transformed into the undead by professional makeup teams and released on the course to haunt the living. In addition, participants and spectators alike can immerse themselves in The Walking Dead Fan Festival, an interactive "after party" featuring games, food, and merchandise from all facets of The Walking Dead universe.
"After overwhelming positive feedback from those who experienced 'The Walking Dead Escape: San Diego' last summer, we wanted to bring our fans an even bigger and better experience for 2013. As promised, we will be upping the ante as we bring on board celebrated and renowned new partner, AMC," said Liam Brenner, founder of The Walking Dead Escape and Ruckus Sports. "With AMC's creative prowess, we are confident that this year's 'Escape' will be the most action-packed and thrilling event yet. We know fan expectations are high and hope to deliver beyond their wildest imaginations."
"The fan reaction to The Walking Dead on AMC has been truly remarkable and exceeded our wildest expectations. It is the number one show on television among adults 18-49, and this live experience allows these passionate and dedicated fans to actually enter the zombie apocalypse that provides the backdrop for the series," said Theresa Beyer, VP of activation and promotion at AMC. "Whether acting as survivors, walkers or spectators, this perilous and immersive attraction allows fans of the show to put themselves in the world that they can't get enough of."
This year The Walking Dead Escape is elevated with new props, scenes and full Walking Dead experiences. Fans may choose among three ways to participate in this epic adventure; as a "Survivor" racing through the zombie-infested evacuation zone with familiar scenes and props from the show and comic book series; as a "Walker" in the undead horde or as a "Spectator" watching the apocalypse from sidelines at the Escape Party.
For more information or to register for the event, visit www.thewalkingdeadescape.com. (Early registration is strongly recommended, as walk-ups may not be available on event day.)